Back To Resources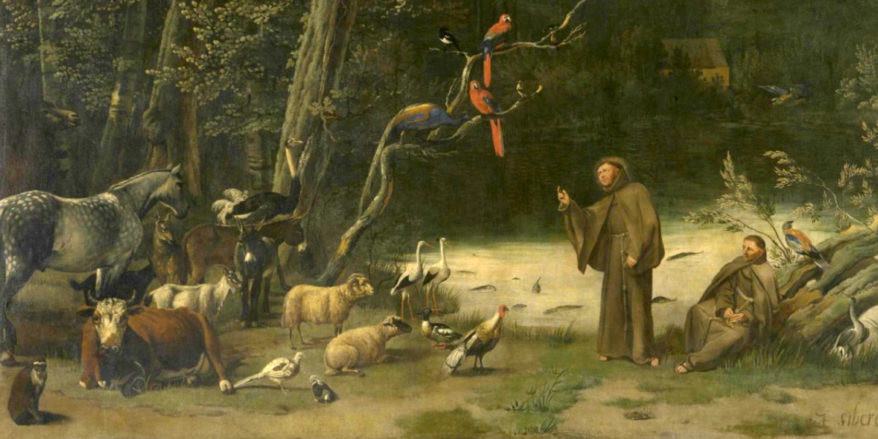 Hymnology: All Creatures of Our God and King
Praise him, sun and moon,
praise him, all you shining stars!
Praise him, you highest heavens,
and you waters above the heavens!
Let them praise the name of the Lord!
For he commanded and they were created.
~ Psalm 148:3-5
Hymn Story
Giovanni Francesco di Bernardone, more commonly known as St. Francis of Assisi, was born in 1181 in Assisi, Italy. He was the son of a wealthy cloth merchant, and grew up in a life of affluence. Still, he was known for his charity toward the poor, something for which his father scolded him.
Eventually, after a short career as a soldier (including a year which he spent as a captive), he returned home and began to voluntarily lead a life of poverty. He claimed to have seen a vision of Jesus Christ commanding him to restore the Church, and gave himself over to serving the poor, sick, and lonely. When his father became angry and tried to persuade him (even going so far as beating him) to give up his religious calling and take up the family trade, Francis renounced his father and his inheritance, and became a beggar himself.
Francis began roaming the Italian countryside, preaching God's word, always cheerful and full of song. Soon other young men joined him, and they eventually became known as the Franciscan Order. They were known as lovers of nature, but worshipers of nature's Creator. Francis was even known to have preached to the birds, urging them to praise their Creator!
In addition to his work as a preacher and an advocate for the poor, Francis is regarded as the first Italian poet. He believed that commoners should be able to pray and sing in their own language, and so he wrote in the vernacular rather than in Latin. One of his greatest works of poetry is called the Canticle of the Sun, which he wrote in 1224, shortly before his death. This poem is the text for the hymn, "All Creatures of Our God and King."
The tune by which we now know these lyrics is from a German hymn called "Lasst Uns Erfreuen". It was harmonized by the English composer Ralph Vaughan Williams, who, in addition to writing music, made a name for himself collecting folk music and editing hymns. In his "English Hymnal", which was first published in 1904, Vaughan Williams combined many ancient texts with folk and hymn tunes.
For their 2017 album Prayers of the Saints, Sovereign Grace Music recorded this version of the hymn, which pairs two of Francis' stanzas with two new ones (written by Jonathan & Ryan Baird) focusing on the redemption, the return, and the rule of Jesus Christ our King:


Lyrics
All creatures of our God and King
Lift up your voice and with us sing,
Alleluia! Alleluia!
Thou burning sun with golden beam,
Thou silver moon with softer gleam!
CHORUS
O praise Him! O praise Him!
Alleluia! Alleluia! Alleluia!

Let all things their Creator bless,
And worship Him in humbleness,
O praise Him! Alleluia!
Praise, praise the Father, praise the Son,
And praise the Spirit, Three in One!

All the redeemed washed by His blood,
Come and rejoice in His great love.
O praise Him! Alleluia!
Christ has defeated every sin,
Cast all your burdens now on Him.

He shall return in power to reign,
Heaven and earth will join to say,
O praise Him! Alleluia!
Then who shall fall on bended knee?
All creatures of our God and King.

Hymn Study
The text for "All Creatures of Our God and King" is a meditation on the 145th Psalm, which is also heavily influenced by Psalm 148. Both of these psalms exhort all of God's creatures (the word "creature" simply means, "that which is created") to praise Him, and of God's work in sustaining all of Creation. As we read so often in Scripture, all of God's works will praise His Name… everything that is exists as a testimony to His greatness!
Psalm 145:5-12
On the glorious splendor of your majesty, and on your wondrous works, I will meditate. They shall speak of the might of your awesome deeds, and I will declare your greatness. They shall pour forth the fame of your abundant goodness and shall sing aloud of your righteousness. The LORD is gracious and merciful, slow to anger and abounding in steadfast love. The LORD is good to all, and his mercy is over all that he has made. All your works shall give thanks to you, O LORD, and all your saints shall bless you! They shall speak of the glory of your kingdom and tell of your power, to make known to the children of man your mighty deeds, and the glorious splendor of your kingdom.
Psalm 148:1-8
Praise the LORD! Praise the LORD from the heavens; praise him in the heights! Praise him, all his angels; praise him, all his hosts! Praise him, sun and moon, praise him, all you shining stars! Praise him, you highest heavens, and you waters above the heavens! Let them praise the name of the LORD! For he commanded and they were created. And he established them forever and ever; he gave a decree, and it shall not pass away. Praise the LORD from the earth, you giant sea creatures and all deeps, fire and hail, snow and mist, stormy wind, fulfilling his word!
The poem which St. Francis composed is actually much longer than the version which appears in our hymnals. One particular stanza, which appears before the final verse (the one that begins "Let all things their Creator bless"), gives God glory in a manner often neglected: the release from sin that accompanies death.
And thou, most kind and gentle death,
Waiting to hush our latest breath,
O praise him, Alleluia!
Thou leadest home the child of God,
And Christ our Lord the way hath trod:
O praise him, O praise him,
Alleluia, Alleluia, Alleluia!
Thanks be to God for reminders that even the things sinful people worship (such as nature) and the things they fear (such as death) still work together for the glory of our Creator God!
A note about the image at the top of the page
Jan Siberechts was a Flemish painter during the Renaissance period, and is best known for developing a style of landscape painting in which his use of light and perspective make figures stand out from the background against which they are set. His 1666 painting Saint Francis Preaching to the Animals is an example of this style.