Back To Resources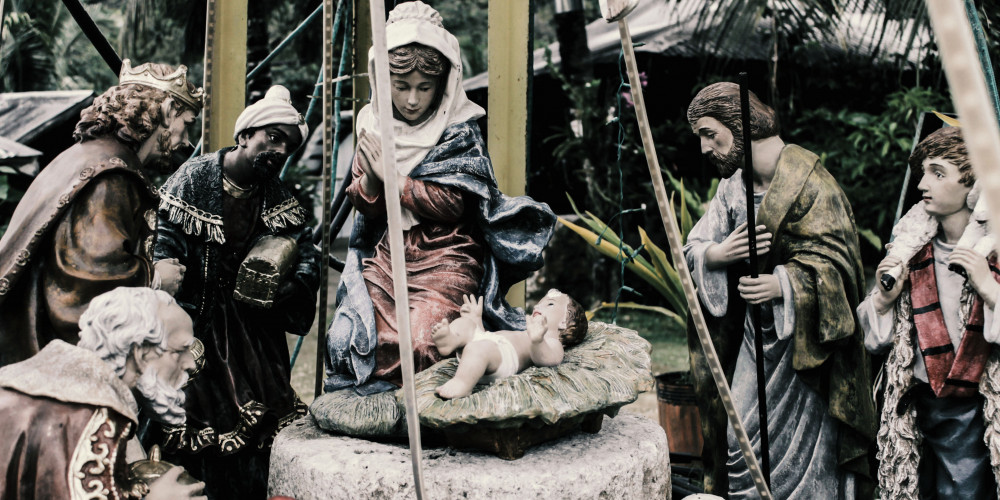 Hymnology: Joy Has Dawned
In the beginning was the Word, and the Word was with God, and the Word was God. ~ John 1:1
Hymn Story
One of the earliest hymns to result from the collaboration between Keith Getty and Stuart Townend (which first produced "In Christ Alone" in 2001), "Joy Has Dawned" was written in 2004 for an album composed to teach the Apostles' Creed. The song has since become the springboard for an entire album of Christmas hymns, as well as an annual concert tour.
In their songwriting, the Getty/Townend duo have always sought to tell the entire story of the Gospel, a feature shared with many classic Christmas carols. In many ways, the Christmas season provides a unique opportunity to sing the Gospel. Getty says:
"Even in the evil agenda and corruption of society, Christ came down to be with us. That's the message of Christmas. So much of what inspires us to write hymns actually finds its origin in carols even more than traditional hymns. There is such enjoyment and excitement in celebrating the most improbable thing that is the incarnation of God on earth... We are His bride, and we live every moment looking forward to His return. The Gospel is a map of history, and we want to tell the story in a way that is meaningful."
Here are the Gettys performing "Joy Has Dawned" in a medley with the familiar carol "Angels We Have Heard on High":

The Seattle-based alt rock band King's Kaleidoscope has given the hymn their own unique spin:
And if that's not your cup of tea, check out this majestic choral arrangement by Molly Ijames and Richard Nichols, performed by the choir & orchestra of Bob Jones University:
Lyrics
Joy has dawned upon the world,
Promised from creation—
God's salvation now unfurled,
Hope for ev'ry nation.
Not with fanfares from above,
Not with scenes of glory,
But a humble gift of love—
Jesus born of Mary.

Sounds of wonder fill the sky
With the songs of angels
As the mighty Prince of Life
Shelters in a stable.
Hands that set each star in place,
Shaped the earth in darkness,
Cling now to a mother's breast,
Vuln'rable and helpless.

Shepherds bow before the Lamb,
Gazing at the glory;
Gifts of men from distant lands
Prophesy the story.
Gold—a King is born today,
Incense—God is with us,
Myrrh—His death will make a way,
And by His blood He'll win us.

Son of Adam, Son of heaven,
Given as a ransom;
Reconciling God and man,
Christ, our mighty champion!
What a Savior! What a Friend!
What a glorious myst'ry!
Once a babe in Bethlehem,
Now the Lord of hist'ry.

Hymn Study
To fully understand and enjoy any good story, we have to know the context in which that story takes place. When it comes to the Christmas story, the world often tries to derive joy (or rather its vastly inferior substitute, "holiday spirit") through elements borrowed from the narrative surrounding the birth of Christ. There are angels, presents, and bright stars, maybe even some acknowledgement of the birth of a special baby. But in order to truly receive the fullness of joy that the season has to offer, we must see the birth of Jesus Christ for what it was: "the most improbable thing," as Keith Getty phrased it above.
And that's why hymns like "Joy Has Dawned" are so important! This text helps us see the incarnation of God in the context of an epic story, every detail of which was planned by its Author from eternity past to eternity future. That may seem like a tall order for a four-stanza song, but let's dig in!

Before the foundation of the world, the Father planned the salvation of those who would receive the Son (Ephesians 1:4-5). This plan "promised from creation" was first revealed to men in Genesis 3:15 with the knowledge that a future offspring of the woman Eve would crush the head of the deceiving serpent. This good news was heralded throughout the Old Testament as the hope not just for Israel, but for "every nation" (Isaiah 49:6, Psalm 67:1-4). For centuries, the anticipation of the arrival of the Messiah was building.

But when Messiah finally came—when "God's salvation was unfurled"—it didn't happen the way most people expected. The long-awaited King didn't arrive with fanfares, arrayed in glorious raiment at the head of an army on the streets of the holy city. The eternal Son of God came as a "humble gift of love," a baby born to a teenage mother from the sticks, "sheltering in a stable."
There were those who were not surprised by this arrival, however. The angels knew exactly what a big deal this was, as they announced the birth to shepherds on a nearby hill (Luke 2:8-14). They had seen Jesus on his heavenly throne, ruling over his creation; now they witnessed him at his "mother's breast, vulnerable and helpless." As they sang that first Noel, they glimpsed one of the greatest ironies in history as "shepherds bowed before the Lamb" (take a moment to reflect on that profound lyric!).
When wise men from the "distant lands" (Matthew 2:1) came Bethlehem to visit the King whom the prophet Micah had foretold would be born in that city (Micah 5:2; Matthew 2:5-6), the gifts which they presented to Him served to "prophesy the story" of Jesus' life and death. Gold was indeed a gift fit for kings (1 Kings 10:10). And while the gift of incense may seem appropriate for new parents (Jesus was fully man, you know, stinky diapers and all!), frankincense was a particularly costly fragrance used for worshiping deity (Exodus 30:34-35). Myrrh, on the other hand, was an embalming spice... an exceedingly odd gift to give to a baby, unless that baby was the Suffering Servant of whom Isaiah had written in Isaiah 53:4-5, who would win us by His blood. Three decades later, myrrh would again be given as a gift for Jesus, this time by Nicodemus for the preparation of Christ's body for burial (John 19:39-40).
Jesus Christ, the "son of Adam" (Luke 19:10) and "son of heaven," (John 3:16) was "given as a ransom" (1 Timothy 2:6) for the sake of "reconciling God and man" (2 Corinthians 5:19). He has become "our mighty Champion" over sin, death, and hell (1 Corinthians 15:57), whose reign on the throne of David as "lord of history" will never end (Isaiah 9:7)!
Have a very Merry Christmas, and may you find deeper satisfaction in this season—and in the Savior whose birth it celebrates—as you sing this hymn.