Back To Resources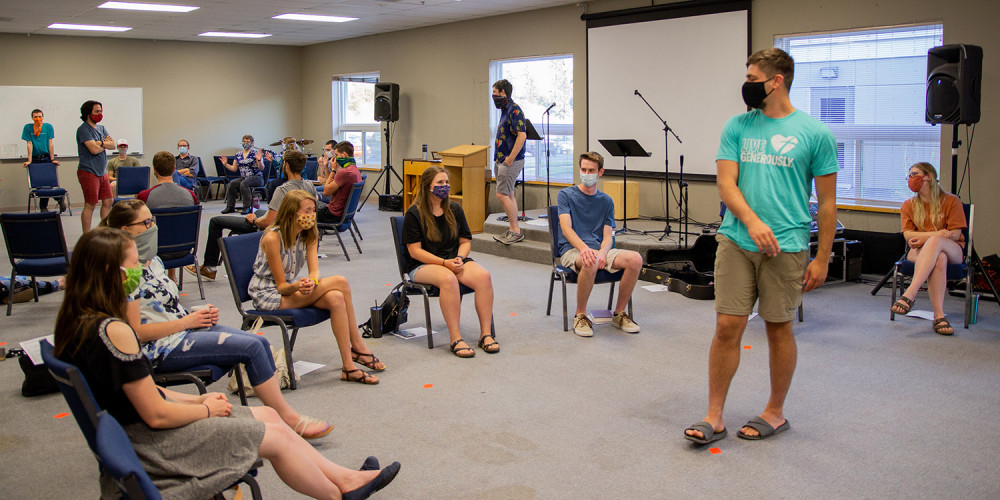 Ministry Highlight: Doxa College Ministry
I'm excited to give an update on what has been going on in Doxa College Ministry over the last few months. I'm thankful to be able to say that despite the adjustments in expectations and rearrangements of strategies that have been necessary because of COVID-19, God has still been faithful to allow Doxa to be fruitful, enjoyable, and to generally move in a forward direction.
So, here's a bit about Doxa as of late: Who we are, What we have been doing, What have our Bible Studies been like, and a brief preview of where we're headed.
Who We Are
It is my conviction that the purpose of Doxa, stripped down, is this: Doxa desires to be a loving college community declaring and devoting our lives to Jesus Christ.
But that's a concise, mission statement-y way of saying what requires a few more words to express: Our responsibility as a ministry to college-aged students is to strengthen its members in their spiritual growth for the purpose of being more useful and faithful witnesses to the areas of this lost world they are a part of (campuses, work places, neighborhoods, families). So, that 'mission statement' is not to be read as a two-fold mission statement. Really, it is one. 2 Peter 1:5-9 speaks directly to this conviction as it explains that the aim of our spiritual growth in the church, with other believers, is to serve the singular purpose of being fruitful and productive in proclaiming what we know about Christ – namely, His Lordship and his soul-saving Gospel.
That's the heart of Doxa.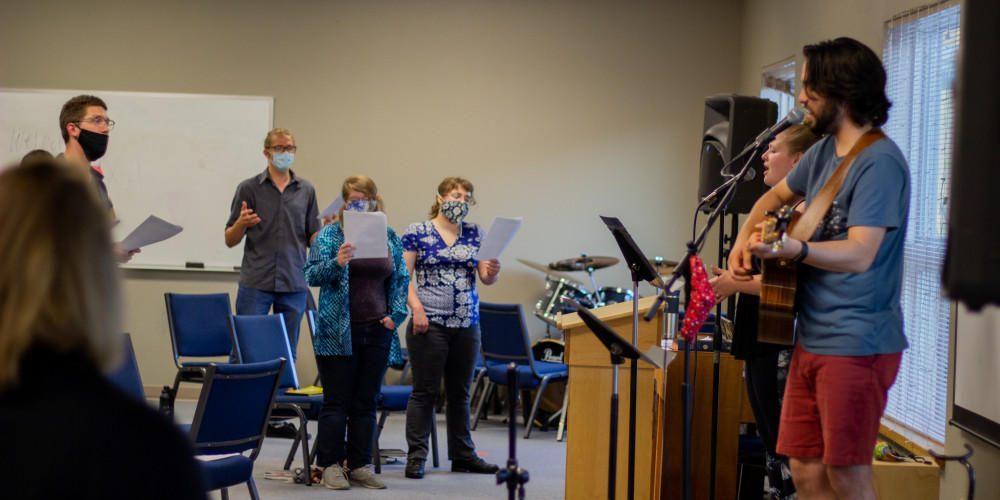 Doxa Gatherings
As far as our large group meeting, we took a short pause when the effects of COVID-19 hit in March. We encouraged students during that time to continue meeting with their campus Bible Studies via ZOOM, as well as joining the rest of the church for Sunday livestreams. And, believe it or not, we successfully held a very fun 'year-end party'… via ZOOM.
In early June we started an overview of the book of Acts titled "They Will Listen" (Acts 28:28). The thrust of this study has been to show that the mission Jesus gave his church after his ascension, to proclaim the Kingdom of God to all nations (Acts 1), is still the work that Jesus is calling his church to today.
For the first two weeks of that series, we met via ZOOM, and attendance remained positively steady. In the third week, we took to meeting in person at the church, following the social distancing guidelines. Once again, attendance has remained steady. In fact, it has steadily increased with several newcomers each week.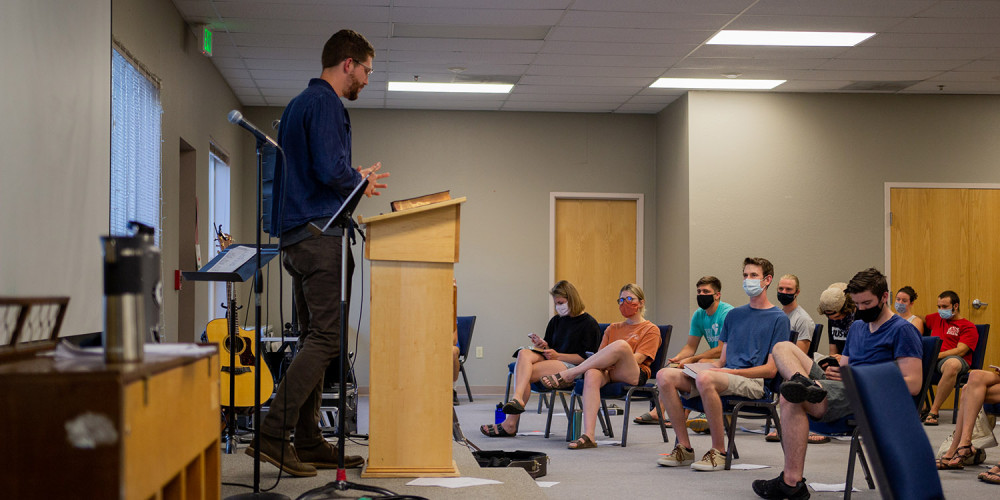 Doxa Bible/Book Studies
Bible Studies
Though we took a brief pause from our main gathering for a short time when COVID hit, Doxa bible studies kept meeting. As I bounced back and forth from Bible Study to Bible Study during those first weeks, I was extremely encouraged to see most students still very eager to see each other's faces and study the scriptures together. Consistently, the two groups had 12-18 attendees each week.
While Bible Studies have taken a break for the summer, two other 'optional' studies have been their placeholders.
Quieting a Noisy Soul
Tanya Cammack is leading some of the ladies through an accelerated "Quieting a Noisy Soul," class. This is an exciting, Scripture-based class that aims at transforming the mind and heart to a Christ-like thoughtfulness toward life's struggles.
What's Best Next?
I have had the privilege of leading a few guys and gals through a book called "What's Best Next." This book aims to transform the way we think about productivity, effectiveness, time management, and living a life of sacrifice and excellence for God's glory. All of this is taught with a Gospel-driven mentality, and is profoundly coupled with practical insights for implementing the concepts taught.
Where We Are Headed + Prayer Requests
Over the next couple weeks, I am devoting my time to solidifying plans for the next two years of Doxa. My desire is to be able to tell the current students and any prospective students the types of things we'll cover from Scripture, various topical series we'll do, and how all of these work to accomplish the purpose of the ministry. During this time, I'll also solidify the structure of the ministry – what days we meet, what function Bible Studies will serve, various roles, etc. Please pray for these things.
Doxa will continue to meet in-person. It is unclear what campus openings will look like in the fall, but we are determined to keep the ministry going either way. Please Pray for clarity on strategies for reaching the campuses, should they be more closed than we hope. Pray we would specifically be able to reach freshmen guys and gals.
We will have three Campus Bible Studies, as of now: Eastern Washington University (Cheney), Community College/Working Class (Spokane), and (for the first time in a long time) a Gonzaga Bible Study (Spokane). We pray for opportunity in the future to reach Spokane's other campuses as well. Pray for the leaders of these groups, a 'training up the next class' mentality, a strong culture of mutual-upbuilding among believers, and zeal for evangelism to the lost.

We will also have several staff and students devoted to what we call Ethnos – outreach specifically to international students. In the recent past, this ministry has had its strongest presence at EWU, but the desire is that we'd soon be reaching international students on every campus. Please pray God would save young men and women from other nations.
Other Prayer Requests
Please pray for the college staff, that we would be united and single-minded in our pursuit of the purpose of this ministry. The current staff is eager, committed, capable and excited to keep growing together. I believe the vision of our roles together is becoming clearer, and with that clarity also comes a better understanding of what some of our staff needs are.
Pray God would provide the right additional staff needed to meet certain discipleship roles.
Pray that God would continue to transform and strengthen the hearts of staff and students to be convinced of their God-given roles as a servant-child of God, a brother/sister to the church, and a witness to the world.

What Can You Do?
We ask that you'd pray for us and rejoice alongside us as God continues to use this ministry for the strengthening of his church and the salvation of the lost.
Please, please feel free to stop by and meet the students any time. If you see them on a Sunday, invite them to lunch. In a survey taken in February, 100% of these students openly expressed the desire to be discipled and influenced by godly families in the church. Your initiative at simply starting a relationship with a student or two would make for a mutual upbuilding between Doxa and the church. I am confident that such initiatives would help Faith Bible Church continue to be faithful at training the next generation and reaching the lost.

Thank you Faith Bible Church,
Jared Millican
Resident Pastor: College Ministry