Back To Resources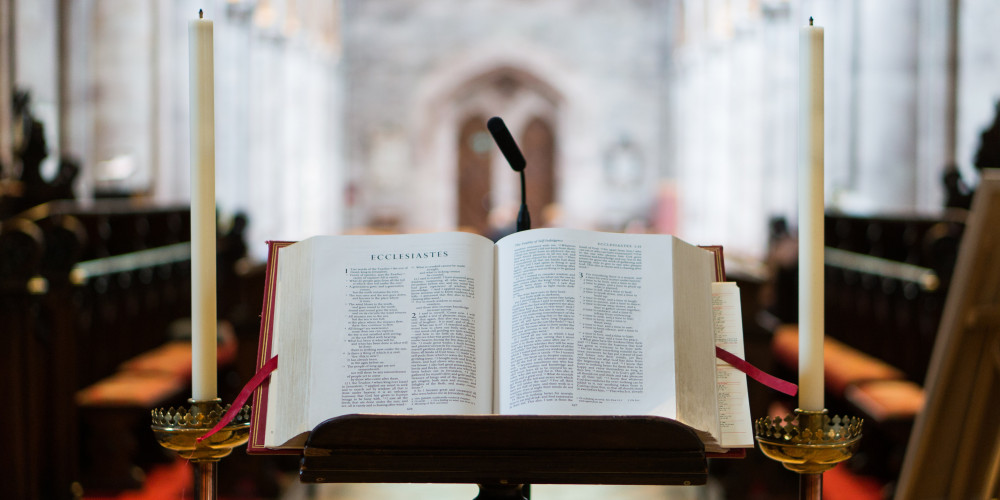 Hymnology: Show Us Christ
After this many of his disciples turned back and no longer walked with him. So Jesus said to the twelve, "Do you want to go away as well?" Simon Peter answered him, "Lord, to whom shall we go? You have the words of eternal life. ~ John 6:66-68
Hymn Story
In recent years there has been a resurgence of interest in reviving ancient liturgical practices in modern worship services. Whether or not they use the word "liturgy", many churches have seen the benefit of formalizing (in the sense of having a well-organized form with consistent elements each week) their service orders. Our church is no exception! (For more on how our church utilizes liturgy, click here.)
Songwriters are responding to this trend by providing churches with new songs to give voice to these various liturgical elements. One such element is the Prayer of Illumination, which is offered before or after the reading of the sermon text, asking God to help the listener understand and apply what he is saying to us in his Word. The song "Show Us Christ," composed by Bob Kauflin and Doug Plan, functions as a prayer of illumination. Here's what Kauflin had to say about the song:
Show Us Christ reminds us that the purpose of preaching God's Word is not simply to give insights for living, impress people with our knowledge of Greek, or to tell people they need to try harder. The primary goal is to display the glory of God in the face of Jesus Christ. The written and preached Word is meant to point us to the riches of the living Word. And because we need the Holy Spirit to open our eyes to the glory of Christ in Scripture, it's right and good that we ask God for help to do just that.
Lyrics
Prepare our hearts, O God, help us to receive
Break the hard and stony ground, help our unbelief
Plant your Word down deep in us, cause it to bear fruit
Open up our ears to hear, lead us in Your truth
Show us Christ, Show us Christ
O God, reveal Your glory through the preaching of Your Word
Until every heart confesses Christ is Lord
Your Word is living light upon our darkened eyes
Guards us through temptations, makes the simple wise
Your Word is food for famished ones, freedom for the slave
Riches for the needy soul, come speak to us today
Where else can we go, Lord? Where else can we go?
Your have the words of eternal life

Hymn Study
We should never take for grated the fact that God has chosen to reveal himself to us in the Bible. Nor should we ever trust in our ability to properly understand His revelation apart from the discernment given by his Spirit (1 Corinthians 2:14). The fact that the "experts" on the Old Testament missed the coming of the Messiah, despite devoting their entire lives to studying God's Word, should serve as a warning against coming to the Scriptures on our own terms.
Yet God has promised that He himself will give us understanding (2 Timothy 2:7). And so we pray for illumination, both for ourselves and for others (Psalm 119:144; Colossians 1:9). We confess our need for God to give us the growth that we desire (Mark 4:14-20; 1 Corinthians 3:7), and to help our unbelief (Mark 9:24). We profess the unmatched ability of God's Word to make us wise (Psalm 119:130), to feed our souls (Job 23:12; Matthew 4:4), and to impart to us the riches of His knowledge (Romans 11:33).
And, in the end, when the Bible seems hard to understand and ever harder to apply, we humbly acknowledge that we have nowhere else to turn, and express our trust that God's Word will see us through to the end (John 6:66-68; Philippians 2:9-11).
Trust in the Lord with all your heart, and do not lean on your own understanding. In all your ways acknowledge him, and he will make your paths straight. ~ Proverbs 3:5-6