Back To Resources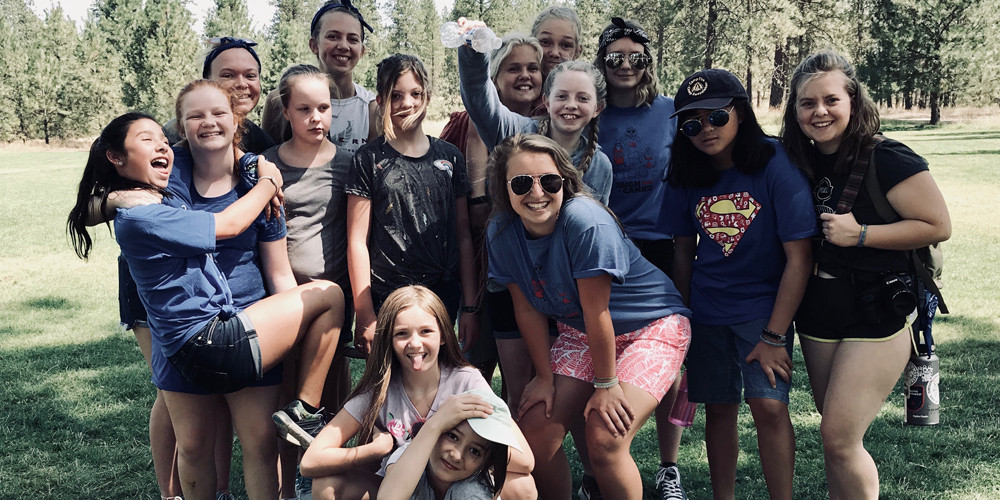 Ministry Highlight: Local Outreach
Photo: group photo from recent UGM Outreach Camp with students from Willard Elementary and the neighborhood around FBC.

Motivated. Equipped. Available... are you? As we think about the mission King Jesus has given us, we are to have his heart to consider the needs of others as more important than our own! He gives us grace to love the believers in our lives and to be devoted to helping them to learn Christ. He also gives us grace to love those in our lives who do not know Him yet and to seek to share the gospel with them!
This means that all of us at FBC who are followers of Jesus need to evaluate our hearts—are we motivated by the gospel to be a light to the lost around us? We need to evaluate our minds—are we equipped to share the gospel of Jesus with those around us? Finally, we need to evaluate our feet—are we available to share the gospel with those who do not know Christ? Do we have space in our lives for unbelievers? Are there spots on our calendars that are set aside for friendships and interaction with people who are not part of the church?
Motivated, equipped and available—where do you need encouragement and help? Think about the people in your growth group…when it comes to the task of evangelism, are you all motivated, equipped and available? Are there opportunities for you to encourage and motivate each other? Are there ways you can equip each other? Can you help each other think about how to be available for evangelism? What if you were to pursue speaking the gospel to people outside the church together? You can motivate, equip and be available together! We are recruiting one person from each growth group to be part of the A-team (assimilation team) to be a servant of your group that seeks to motivate, equip and encourage people in your group to be available for evangelism. Together we can create a culture of evangelism and discipleship where we are each following King Jesus in this important mission that He has given us.
"Together we can create a culture of evangelism and discipleship where we are each following King Jesus in this important mission that He has given us."
What does God do through humble, weak servants who are motivated, equipped and available? Rylee, several years ago, kept inviting a friend from Mead High School to church. Through this friend's involvement at FBC she has come to know Christ, has been baptized, has gone on a missions trip and is serving in a ministry. Zack and Alyssa invited a coworker, Barb, to FBC and through this invitation Barb and her husband have been receiving teaching through the Fundamentals of the Faith class and are growing in their faith for the last year! It does not have to be fancy or grand, but your efforts to speak the gospel to others are used by God to do great things!
Our prayer and our vision is that every member at FBC is part of evangelism at FBC. This happens in all our neighborhoods, in all our schools, in all our work places, and in all our families. We also are working together in several places to make the gospel known through acts of service and relationships with Refugees and with students at Willard Elementary.
Refugee Ministries
Garry Morgan, one of the leaders of our Refugee ministry explains it this way: "Since the mid-1980s the number of long-term cross cultural workers from the US has been in steady decline. During this same period, an unprecedented global migration of people has taken place, (often due to religious or ethnic persecution,) and some of those people have come to the United States. In terms of obeying the Great Commission, American Christians have largly stopped going to the nations, but God has brought the nations to us. How do you think God wants us to respond?" He and Mike Sawatzky have been leading our ministry to refugee families for the last year. This ministry is primarily happening through an ESL class that happens on Sunday afternoons from 3:00pm to 5:00pm at FBC.
Several families from this ESL class have invited volunteers from the class to spend time eating food and drinking tea with them and talking about life. FBC volunteers have been able to serve the refugee families by taking them to doctor appointments and by helping them navigate life in Spokane. All of this is pointing these precious people to the reality of a living Savior!
Would you be willing to be part of this ministry team? We need ladies to be English conversation partners with women from North Africa, the Middle East, and South Asia who are learning English. Many of these ladies are coming from a Muslim or other religious background. This is a wonderful opportunity to serve them practically by practicing English with them and being a friend. We also need ladies to give them rides, as well as youth and college students or men who would be willing to help with child care during the ESL class. Last year we had 15-20 kids every week from the nations that we got to play with and love during the class. Lastly, we need a few people to volunteer to pick up some chairs in part of the auditorium right after second service so that we have room for the kids to play in there. If you are interested, please contact Mike Sawatzky (mjshome@gmail.com) or the church office at 509.326.9455
Willard Elementary
We also love to serve at our local elementary school. There are several FBC members who regularly volunteer at Willard during the day. We get to serve families from Willard every summer through the UGM camp. And we will again be doing an afterschool program one day a week at Willard called "Young Club" and we need more volunteers for that. If you would like to help us make gospel noise at Willard, please let us know if you are interested in volunteering at the school or helping with the after-school program or the summer camp!
Several students from the UGM camp or from Willard have gotten involved at FBC now and are involved in small groups and are learning how to follow Christ together with our youth. Even though their parents are not part of our fellowship, the kids are taking the initiative to come and to learn Christ with us. One 5th grader at UGM camp told us, "I didn't used to believe in God before this camp. Now I am pretty sure He is real." Dozens of kids are understanding the gospel better and gospel seeds are being planted deep in their hearts and lives.
While Refugee ministry and Willard Elementary are two great opportunities for some of us to serve together, we want all of you to evaluate the opportunities you have to speak the gospel and show the truth of the gospel to people around you. Are you motivated, equipped and available? Look to Christ for grace each day to be about His mission! If we are followers of Christ, we are His ambassadors. What kind of ambassadors will we be this week by His grace?