Back To Resources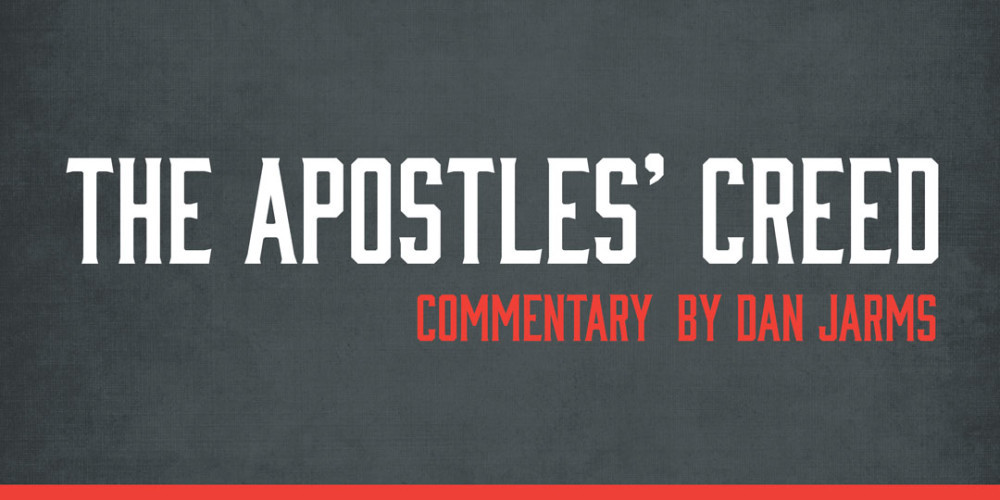 The Apostles' Creed Part 4
I believe in God, the Father almighty,
creator of heaven and earth.
I believe in Jesus Christ, his only Son, our Lord,
who was conceived by the Holy Spirit
and born of the virgin Mary.
He suffered under Pontius Pilate,
was crucified, died, and was buried;
The third day he rose again from the dead.
He ascended to heaven
and is seated at the right hand of God the Father almighty.
From there he will come to judge the living and the dead.
I believe in the Holy Spirit,
the holy universal church,
the communion of saints,
the forgiveness of sins,
the resurrection of the body,
and the life everlasting. Amen.
The cross of Jesus Christ is the white hot center of God's glory in redemption. The cross shows the holiness, grace, and mercy of God as Christ bore our sins. It secured Christians as sons and daughters of God for eternity. Paul wrote, "For our sake he made him to be sin who knew no sin, so that in him we might become the righteousness of God" (2 Corinthians 5:21).
When the Apostle's Creed came into widespread use in the churches, the cross was still the ultimate instrument of torture, domination, and disgrace in the Roman empire. No one made a piece of Jewelry shaped like a cross. But, it was still central to the Christian message. The mention of Pontius Pilate and the crucifixion are important for at least two reasons. First, it was a historical, verifiable event under a thug Roman ruler. Pontius Pilate embodies the world rulers in Psalm 2:2 who with Jewish leaders, "take counsel together, against the LORD and against his anointed." Jesus' suffering was the path to victory over these forces.
Second, there never was, nor will there ever be a hero like Jesus. The cross was the sign of utter failure, weakness, and humiliation in the Roman world. Yet, it is through the cross, that God displayed his great power. Michael Bird writes, "His death was the instrument for Israel's forgiveness, the defeat of Satan, the renewal of the covenant, and the inclusion of the gentiles in God's saving purposes." He freed us from our sins by his blood (Revelation 1:5). This gospel flew in the face of all pagan religions. It is so important that Paul said, "I decided to know nothing among you except Jesus Christ and him crucified" (1 Corinthians 2:2).