Back To Resources
Pastor John's 2020 Reading Challenge
Every year I like to set a reading goal for myself to help me stay focused on learning and growing. For three out of the last four years, I have used this guide from Tim Challies, as I have found that the wide variety of categories he offers keeps me reading broadly, forcing me to read things I might otherwise overlook. I encourage you to join me in this challenge as well! No matter how ambitious a reader you are, there's a plan for you (ranging from "light" to "obsessed"). I've set a goal to meet the "committed" level of one book per week, and I'll be sharing short book reviews of each book for those who'd like to follow along with me. If you decide to do the challenge, be sure to let me know about what you're reading, too!
Before I get to the reviews, there are a few things I'd like to point out:
This post will be updated frequently, with the most recently read books at the top of the page.
I'm not working through Challies' categories in order, but will be jumping around the list a bit.
A book's appearing on this list should not be considered an endorsement or recommendation! I intentionally read books representing different ideologies or worldviews, as well as occasionally books containing potentially objectionable material. I approach these books very critically, often with the intent of engaging with someone in a conversation. While I find this kind of reading to be very helpful, it is not necessarily something I would encourage other (particularly younger) readers to do.

Many of the links in this post are affiliate bookseller links to Amazon, meaning I'll receive a (very) small commission should you happen to purchase the book, but this does not affect the price you pay in any way.
Gay Girl, Good God: The Story of Who I Was, and Who God Has Always Been

By Jackie Hill Perry — A book about gender or sexuality (15/52)
If you're looking for a theological treatise on issues of gender & sexuality, keep looking. That's not what this book is, nor does it claim to be. Instead, it is a book-length testimonial of how a good God met a gay girl and gave her a new heart. Her writing style is not my preference, but it is deeply and unmistakably personal. As someone who has never experienced same-sex attraction, it is difficult to understand what that is like, but Perry invites readers into her story in a way that helps us empathize with those living in this all-encompassing lifestyle. As good as the story is, though, I most appreciated the third section of her book, aimed at helping Christians better understand same-sex attracted people. In this section she rightly emphasizes that their greatest need is not a new sexual orientation, but a new heart. And while there are indeed stories of SSA people coming to Christ and instantly receiving new affections, this is not always--or even often--the case. Many, like Perry herself, grieve the loss of partners they genuinely loved but gave up for the sake of the gospel. Many never marry or experience sexual attraction toward the opposite gender. It's good for believers to read stories like this, because if we are ever going to reach and then disciple LGBTQIA+ people, we need to have a much better understanding of the battles they will face in coming to Christ.
Recommended for: Those with a burden for reaching SSA people with the gospel. (link)
Helping Your Church Live Stream: Your Guide to Church Video Production, Digital Donations, and Streaming Video on Social Media

By Paul William Richards — A book of 100 pages or less (14/52)
Anticipating the need to begin offering a live stream of our church services soon due to the outbreak of COVID-19, I picked up this book (graciously offered for free by the author during this unprecedented time) to see what helpful information I could glean. Having previously had only bad experiences with church live-streaming, I wanted to make sure that whatever we did was done with excellence. While most of what is in this book is very technical (and for those starting with zero prior experience, this information would be extremely useful), I appreciated many of the questions the author asks to help churches refine their goals, their audience, and their processes. Thankfully our tech team is incredible and was able to pull together a tremendous live stream on very short notice (which you can see here) with equipment we already owned, though we may look to expand our options in the near future since this looks to be our new normal for a while.
Recommended for: Churches considering launching or improving their live-streaming capabilities. (link)
Caffeine: How Caffeine Created the Modern World

By Michael Pollan — A book with a one word title (13/52)
This was a short, fun audiobook by an author whose work (particularly Cooked) I have found fascinating. Pollan has a way of making anything interesting, and considering my already considerable interest in coffee and tea, this was a no brainer. The book traces the scientific and economic development of this relatively recently cultivated substance and its impact on society as well as on individuals. Love that he narrated it himself; his passion really comes through in the performance.
Recommended for: Coffee connoisseurs, foodies, and history buffs. (link)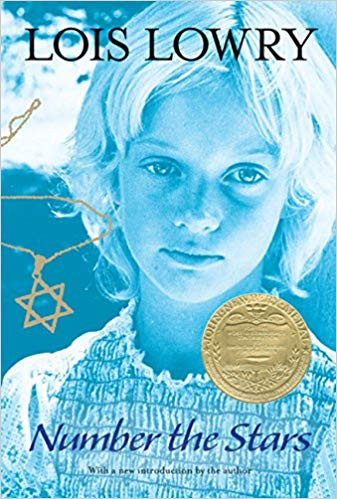 Number the Stars

By Lois Lowry — A biography for children or teens (13/52)
First off, this really isn't a biography, though in my defense, I thought it was when I started it. But it is based on real events in 1940s Denmark. My two oldest kids have been reading a lot of books lately about World War II and the Holocaust, and had some questions after reading this book about the Danish resistance which helped smuggle Jews into Sweden. As a quick and easy read, I enjoyed it, and definitely enjoyed the conversations it led to with my kids. There's a reason it won a Newberry award!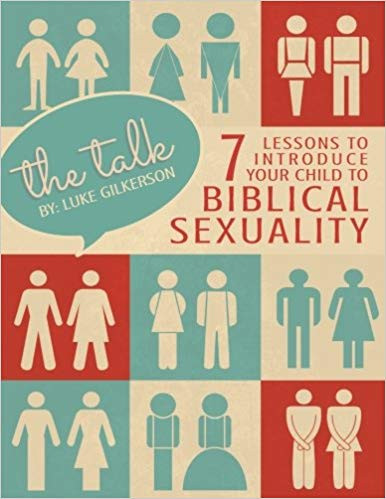 The Talk: 7 Lessons to Introduce Your Child to Biblical Sexuality

By Luke Gilkerson — A book you think you ought to read (10/52)
Most Christian parents, according to author Luke Gilkerson, avoid talking to their young children about sex out of a fear of saying too much, too soon, only to find out they've said too little, too late. Having worked for years for Covenant Eyes (a highly recommended & highly effective tool for helping break addiction to pornography), Gilkerson knows as much as anyone about the pitfalls of sexual immorality and how to avoid them. This book contains seven short lessons designed to help parents have "the talk" with their children ages 6-10. Each lesson begins with a passage of Scripture dealing with God's design for sexuality, then unpacks the text in a way that is easy to understand for kids in that age range. The lessons range from basic anatomy (i.e., God made us male & female, with similarities and differences in how we're put together) to how babies are made, to the importance of sexual purity and marital fidelity. I'll be honest-starting this book with my son was difficult. But it was only difficult because of my discomfort (confession: I bought it two years ago); he was very eager to learn and to talk about these things with me. As hard as it was for me to start this with him, I'm so glad I did, and so glad I got to be the first to talk with him about sex. I want him to grow up knowing he can talk to me about these things anytime. Studies show that the average age of a boy's first exposure to pornography is between 8-11. The world wants to teach our kids about sex, and the world is not exactly promoting purity. This book has been a great tool in preparing my son (and soon my daughters) to face the onslaught of sexual temptation that is coming, as well as helping us develop a much stronger bond.
Recommended for: Anyone with kids in this age range. I can't overstate how grateful I am for this resource! (link) For those with older kids, Gilkerson has also published a book geared toward 11-14 year olds to give them a greater understanding of Biblical sexuality, as well as a book to help adolescents make sense of puberty. I'll likely be adding these to our family library soon.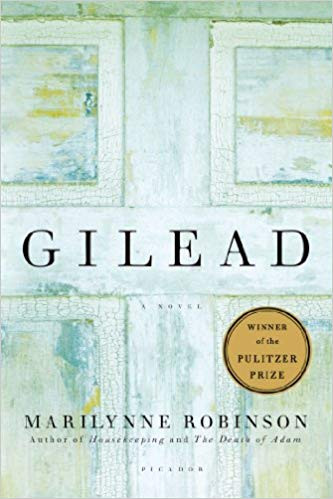 Gilead: A Novel

By Marilynne Robinson — A book that has won an award (9/52)
This is a novel I've heard about for years, but have never read. It was a Pulitzer Prize winner (thus satisfying that particular criteria from Challies' list), but more importantly, has been recommended by a number of people whose taste in books I generally share. I'll be honest... it took me a while to really get into it. Thankfully, I'd been warned, not only by friends of mine who've read it, but by the numerous endorsements printed on the back cover and inside the book, all saying that this book is something to be read slowly and savored, not simply consumed. Having reached the end, I absolutely concur with that sentiment. It's an absolutely beautiful piece of writing, fully engaging the full range of human emotion. Robinson puts the reader inside the head of dying pastor John Ames as he writes a journal for his young son to read as he grows up without his father. The book deals poignantly with a number of topics (notably forgiveness, contentment, racism, and friendship) which will resonate with all readers, while also being a very intimate, personal story. The closest comparison I can think of is to the writing of Wendell Berry in his Port William novels... and that's high praise!
Recommended for: Those who appreciate great writing and possess the patience and endurance to read at the pace of an old man, knowing they'll reap the reward for having completed the journey. (link)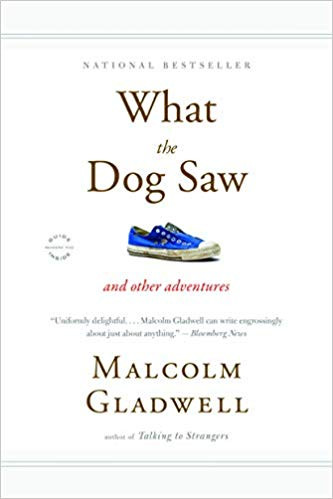 What the Dog Saw: And Other Adventures

By Malcolm Gladwell — A book that was on sale (8/52)
I've long been a big fan of Gladwell's writing, so when I saw the only one of his books (save the newest, on which I've placed a hold at the library) I hadn't yet read sitting in a yard sale box for 50 cents, I figured it was time. This book is a bit unique among his works, as it lacks a single unifying theme. Rather, it is a collection of some of his best writings from his time spent working as an essayist for The New Yorker. While many of the essays were intriguing--and some really quite good--I found it difficult to plod along through the book. Perhaps if I'd tried reading an essay each week (the frequency with which The New Yorker is published) it would have been better. In any event, I will continue to enjoy his writing, but count myself glad he has now devoted himself full time to writing book-length treatments of whatever topic strikes his fancy.
Recommended for: Hard-core fans of Malcolm Gladwell's writing, or those who want just a smaller sampling of it. (link)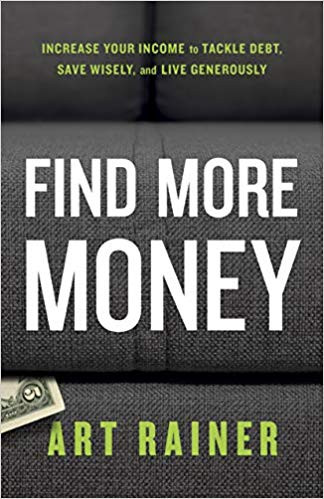 Find More Money: Increase Your Income to Tackle Debt, Save Wisely, and Live Generously

By Art Rainer — A book about money or finance (7/52)
In the Bible, Jesus talks more about money than about anything else, so it's no wonder there are so many books aiming to help Christians become better stewards of God's resources. I try to read at least one a year, even when it's NOT a category in a reading list. Most of them tend to focus on eliminating debt, cutting spending, and living within our means... all important aspects of our financial health! This book was refreshingly different, though, as it focuses on the other side of the ledger. What do we do when we really can't cut anything else from the budget, yet still have financial burdens we can't meet? In cases like that, it's not an expenses problem, it's an income problem, and it's a problem that is particularly common in pastoral ministry, where frugality and generosity tend to far outpace salary. Thankfully, most people have marketable skills that can be leveraged to "find more money." Rainer's book is eminently practical, exploring the modern "gig economy" to help Christians build a "side gig" that will provide some financial margin in a way that complements rather than competes with their main job. As I am working hard to build my own side gig (as a music instructor, performer, and arranger), this book arrived at just the right time.
Recommended for: Christians looking to use their gifting and passions to increase their income for the sake of living more generously. (link)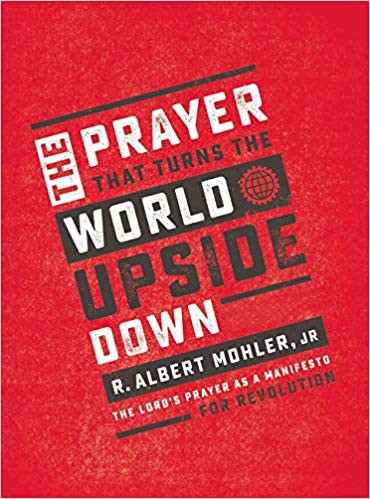 The Prayer That Turns the World Upside Down: The Lord's Prayer as a Manifesto for Revolution

By Albert Mohler — A book written by a speaker at Together for the Gospel (6/52)
As with all of Mohler's expository writing—his book on the 10 Commandments (Words from the Fire) remains a favorite of mine—this short book on the Lord's Prayer is easily accessible and full of brilliant insights. The book's introduction states well the reason the Lord's Prayer is so important: The vast majority of Christian prayers (including, embarrassingly enough, so many of the prayers I have prayed in public) are "mindlessly automatic", full of "familiar prayer language and stock devotional phrases." Thankfully, Jesus has given us for both how to pray and what to pray. And, as Mohler convincingly demonstrates, the Lord's Prayer is a radical assault on the status quo of this fallen world, and provides the answer to our yearning for what is wrong to be made right. This book is a wonderful resource, and also an excellent model for how to study Scripture; watching Mohler examine every word of the text provides quite the hermeneutical education!
Recommended for: Those looking to improve their prayer life and their ability to study God's Word. (link)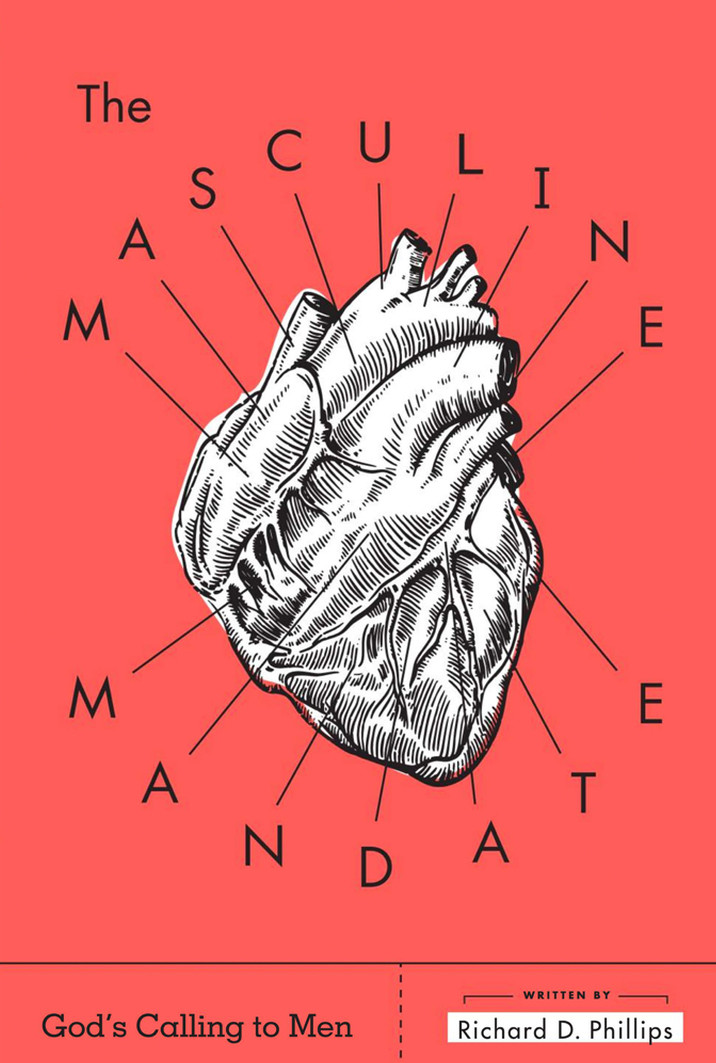 The Masculine Mandate: God's Calling to Men

By Richard D. Phillips — A book targeted at your gender (5/52)
Technically this is a re-read, but since it's been several years since the last time I read it, I figure it counts again! This is a book I've used many times over the years in discipling young men to be better men. The title comes from Genesis 2:15, which Phillips interprets as a mandate for men to work ("to labor to make things grow") and keep ("to protect and to sustain progress already achieved") in every aspect of our lives, with eminently practical chapters devoted to marriage, fatherhood, and the need for friendships with godly men. This view is in start contrast to both secular views on masculinity and other popular Christian books on manhood (most notably Wild at Heart). You can read a full review I wrote on this book here.
Recommended for: Christian men who are not satisfied with what the world tells us about what it means to be a man. (link)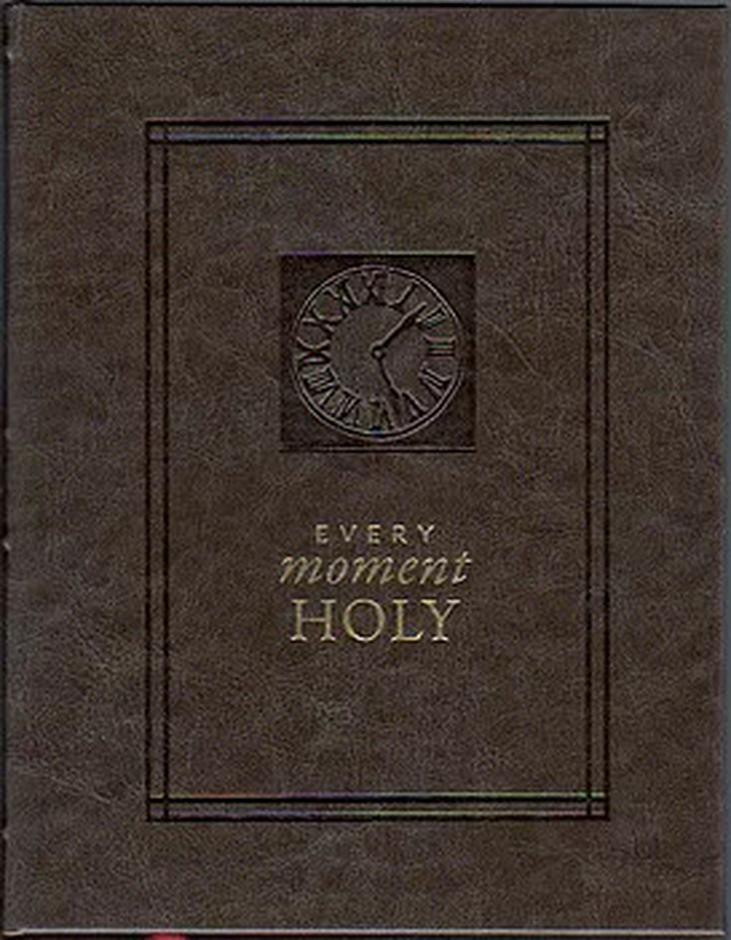 Every Moment Holy: New Liturgies for Daily Life
By Douglas McKelvey — A book about Christian living (4/52)
This book is difficult to classify, as there really isn't anything like it out there. McKelvey aims to give Christians words to read and share for many different occasions, from the routine to the momumental (e.g. "A Liturgy for the Ritual of Morning Coffee", "A Liturgy for a Moment of Frustration With a Child", "A Liturgy for Those Who Weep Without Knowing Why", etc.). The best comparison I can give it is that it is almost a Valley of Vision for today's world; a collection of prayers infused with the Gospel which help us to keep our focus on God and His goodness no matter what we may be dealing with at any given moment. It is truly magnificent, truly beautiful (definite shelf candy), and I can't recommend it strongly enough! Our family is already looking forward to Volume 2.
Recommended for: I would love to see every family have a copy of this for their home library! (link)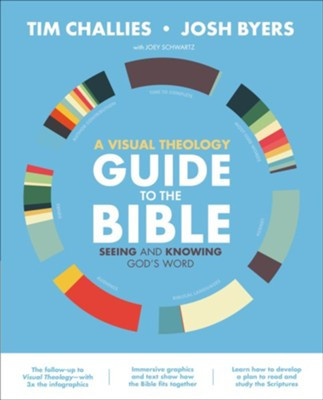 A Visual Theology Guide to the Bible: Seeing and Knowing God's Word
By Tim Challies — A book about the Bible (3/52)
I really loved Challies' Visual Theology: Seeing and Understanding the Truth About God, so when he published another book in the series I knew I needed to get it. There are many types of learning, and in my world of working with children, musicians, and other creatives, I find a great number of people who learn best through visual representation of information. In both VT books, Challies presents stunning infographics conveying beautiful truths. This second volume functions essentially as a beginner's Biblical theology, showing how the entire Bible works together to tell a single story. While I didn't love it quite as much as the first book, I'm still glad to have it on my shelf.
Recommended for: New Christians, family libraries, and visual learners (link)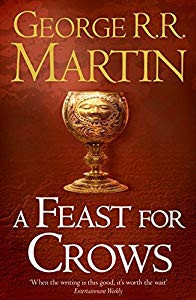 A Feast for Crows
By George R.R. Martin — A book recommended by someone else (2/52)
This is book four of the fantasy series A Song of Ice and Fire, which I began reading last year upon the recommendation of a friend. I had, admittedly, been very wary of this series having heard about the extremely gratuitous nature of the HBO television series A Game of Thrones, which is based on this series, and which I have never seen (nor intend to see). Every so often, however, I find it helpful to engage with secular literature which has had a profound impact on our culture. Additionally, my interest was piqued when I learned that Martin had loosely based the series off the period of the 100 Years War, a particularly shameful era of church history. While I would strongly caution impressionable readers to stay away from this series, I have found Martin's worldbuilding, character development, and storytelling to be really incredible. Despite Martin's pessimistic and decidedly non-Christian worldview, there is something very true in his writing about the fallenness of our world and the mixture of virtue and vice found in every human. Still, I can't in good conscience recommend this series to others.
Recommended for: Not recommended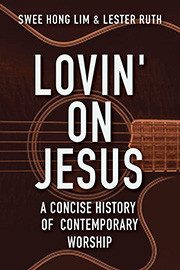 Lovin' on Jesus: A Concise History of Contemporary Worship
By Swee Hong Lim & Lester Ruth — A book about church history (1/52)
There are very few scholarly books addressing the phenomenon of "contemporary worship," and perhaps none so thorough as this one. While the writing is a bit dry (typical of academic writing), I found the content fascinating on a number of levels. Having grown up in the midst of the period the book examines, I realized there are a great many things I took for granted, but which were actually fairly significant developments in the history of the church. For instance: the fact that I have always attended a church where the various service elements and the Bible itself were all in modern English. While my formative years in the church were dominated by "worship wars" involving musical selections, the use of common, everyday language—the biggest factor in whether a worship gathering was considered "contemporary" in the early days of the movement—was already fairly ubiquitous at that time. While music is an important part of the conversation of what makes up contemporary worship (that discussion occupies about a quarter of the book), it is far from the only consideration. Throughout their survey of contemporary worship, the authors do an admirable job of being thorough and charitable, allowing their personal preferences to remain fairly transparent.
Recommended for: Worship leaders, pastors, and anyone interested in a scholarly study of recent church history (link)