Back To Resources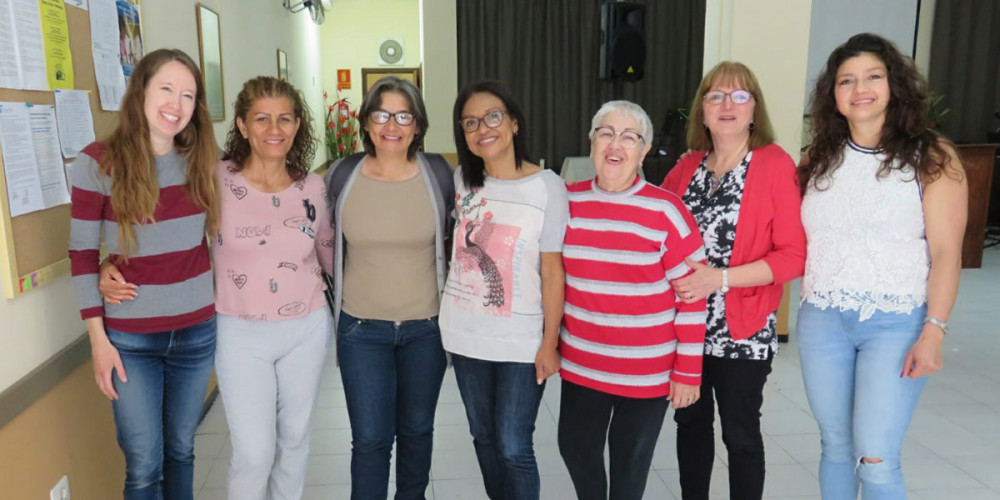 Persevere: Mirna's Story
(Picture above: Mirna in the center with Women's Bible Study Group)
While drinking coffee at Siam Mall with Alcides (missionary pastor in the Adeje church) on our recent visit to Tenerife, he asked me to share any life advice with the two youth who accompanied him. I responded, "persevere!" I saw the lump that one of the young men swallowed. He knew that I knew he had been struggling in his obedience to Christ.
I challenged these two young men with the passionate call of the author of the book of Hebrews. "Let us hold fast the confession of our hope without wavering, for He who promised is faithful" (Hebrews 10:23, NASB).
I painted a mental picture of the rock climber who has lost his footing on the side of a jagged mountain and is clinging desperately to his security line. Listen to the words of your climbing partner who is securely situated on the side of the mountain holding the other end of your security line: "Hold fast, do not let go, the precipice is deep, a certain death awaits you if you let go, keep clinging to your only hope, persevere."
Unfortunately all too many people let go and drift away. Why? Could it be that the opposition becomes too intense? Do we walk away in bewilderment and disillusionment because God has not resolved our case? Does the philosophical jargon in society seem more relevant to us than God? Does our youthful age suggest maximizing enjoyment now and then considering God's way when life slows down? Do those living in open defiance of God seem to be doing quite well, so why should we remain faithful to the Lord?
Has this kind of thinking infiltrated your mind and emotions? If so, you need to travel to Tenerife and meet Mirna. If anyone has reason to think this way, Mirna Franco holds the number one spot on my list. Intense opposition from her family, unresolved physical pain and financial hardship, secular philosophy bombardment from her friends, and apparent ease of living enjoyed by those who oppose God. Mirna has faced all this! She could justifiably give up and walk away from Jesus. Instead she perseveres in her passion for Jesus!
Lois and I met Mirna in 2006 on an exploratory trip to Tenerife to see if God would have us participate in a church plant. She was in a Bible study with a small group of people that we had known previously in Venezuela. The version of the gospel that she had learned in Venezuela tilted toward an erroneous prosperity gospel. After we helped to start Fountain of Peace and Hope Christian Church in Santa Ursula in 2007, Mirna showed up for just about everything. She came to understand the grace of God offered to us through the Lord Jesus Christ and passionately embraced the true gospel. Her love for God's Word and fervency in prayer shaped her as a genuine follower of Jesus.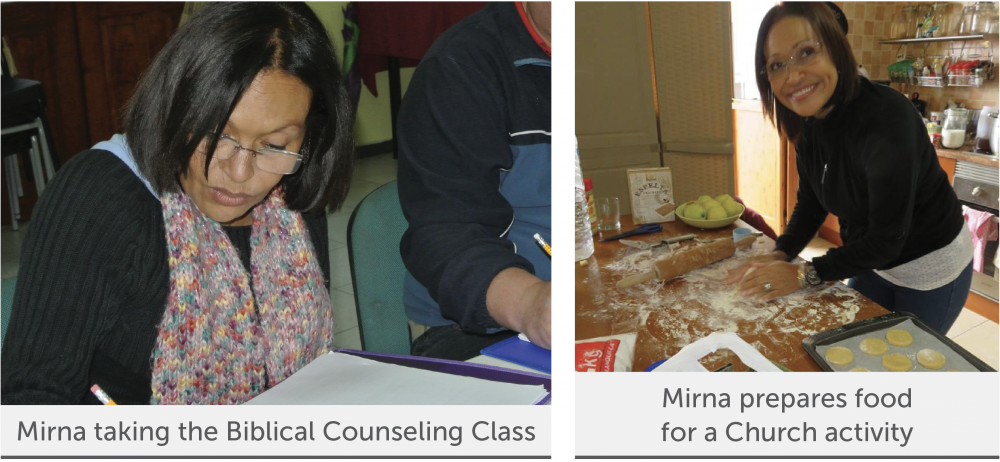 But life has not been easy for Mirna! Severe physical pain in her joints caused by arthritis and spinal column pain continue to be a constant hardship. Financial complications abound. In Venezuela she enjoyed a high paying banker's salary. Employment options in Tenerife were initially limited due to legal document restrictions, and now her age works against her in a society that prefers to award the good jobs to the younger generation. She lives on practically nothing… joyfully, without complaining, and incredibly trusting God for her daily needs.
Physical pain debilitates, emotional pain crushes the soul. Mirna has endured long term opposition from her family because of her loyalty to Christ. Her family loves her and likes to have her with them, but do not like her demonstrated passion for Christ. Her children mock her and chastise her for the time spent with the people of God. And yet she serves her family with dedicated love. She takes care of the grandkids throughout the week, participates in the family birthday parties, and comes alongside her children when they are sick. What does she get in return? Mockery because she loves Jesus.
This kind of opposition from her children might be bearable. But the greater pain is caused by the ridicule she receives from her husband. In the past he would belittle her when she came home from a church activity, curse at her, blaspheme the name of Jesus, throw her Bible to the floor in anger, and use vulgar language about the church people she loved. The intensity and frequency of these attacks became so severe that Mirna had to move out of the home, a separation which we supported. But at no point has she stopped loving her husband and showing kindness to him. During a significant illness in which he was hospitalized for a long time, she was at his bedside every day. Never does she speak ill of him, instead she begs that we pray to God for him and his soul.
Knowing the resistance she will receive from her family does not slow her down in serving Christ through the Santa Ursula church. She serves the Lord in spite of her physical pain, financial hardship, and family opposition. The elders of the church have named her as a deaconess with responsibilities to coordinate the business administration of the church and oversee discipleship ministry amongst the ladies. Her small apartment is the venue for a weekly small group Bible study, with a snack provided sacrificially by Mirna. A weekly Bible study for women is co-led by Mirna. She helps with meal and decorations preparation for church activities, is actively involved in church outreach activities, and takes in as many training courses offered by the church as her schedule will allow.
I recently asked Mirna what keeps her going. How does she persevere in following Christ, even amidst great adversity? Her response is compelling. "No temptation has overtaken you that is not common to man. God is faithful, and he will not let you be tempted beyond your ability, but with the temptation he will also provide the way of escape, that you may be able to endure it" 1 Corinthians 10:13 (ESV). Mirna writes, "This is how it is, God permits temptation (trials) with the purpose of strengthening my faith and my character." She gladly receives the grace of the Lord Jesus and through Him continues to persevere!