Back To Resources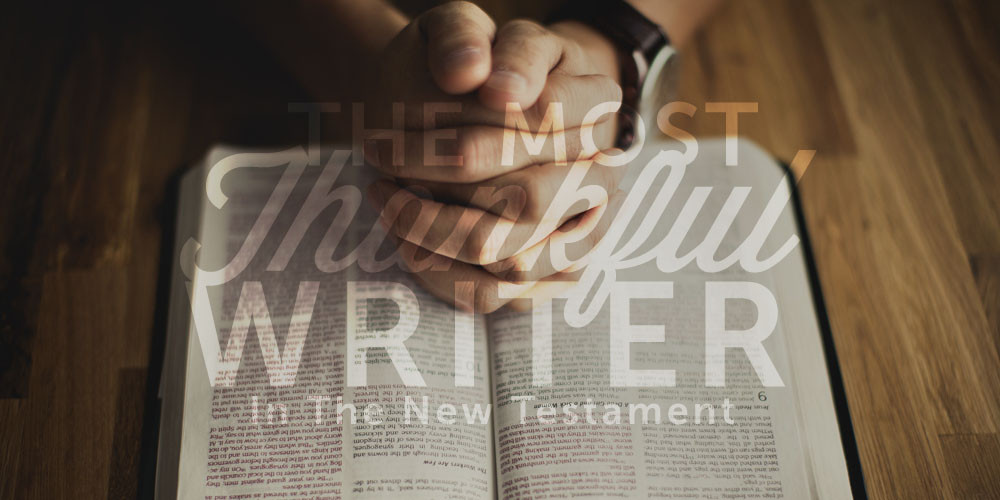 The Most Thankful Writer in the New Testament
I can't escape that I have the personality of a coach. From my earliest grade school years to my mid-forties I was always involved in athletics. I am competitive. I enjoy the hard work of achieving a goal. I relish the little successes that lead to a win. But, I also see the gaps and constant need for improvement. Sometimes, in getting to the goal, the only thing I see is what skills are lacking and the problem the next opponent brings. A good coach however needs to tell his players how far they have come as well as where they need work.
The Apostle Paul had the incredible ability to do this. It's not because he was a coach. It was because he was a disciple-maker following the Lord Jesus. In all of Paul's writings, Paul demonstrated the constant awareness of what God was doing in the lives of people, and he didn't miss an opportunity to talk about it. Over the last year I have spent a great deal of time meditating on the prayers of Paul. He wrote them for the encouragement of the churches he served. Half of Paul's praying, was thanksgiving for the spiritual progress in the lives of people. You can tell what someone values by what they pray for. You can tell someone's outlook by what they thank God for. Paul, one of the great disciple-makers and church planters, overflowed with thanksgiving for spiritual progress in the inner man. That is what was most important to him.
Here is a sample of the thanksgiving prayers of Paul who was undoubtedly the most thankful writer in the New Testament. Notice what he valued and how he saw God accomplishing his will.
Salvation and Sanctification: Paul thanked God for saving sinners and sanctifying them through the gospel he preached. But we ought always to give thanks to God for you, brothers beloved by the Lord, because God chose you as the first fruits to be saved, through sanctification by the Spirit and belief in the truth. To this he called you through our gospel, so that you may obtain the glory of our Lord Jesus Christ (2 Thessalonians 2:13-14)
Faith, Hope and Love. Paul saw God produce these essential elements of Christian character and he rejoiced. How do you see the faith, hope, and love of the fellow Christians in your life? We always thank God, the Father of our Lord Jesus Christ, when we pray for you, since we heard of your faith in Christ Jesus and of the love that you have for all the saints, because of the hope laid up for you in heaven. Of this you have heard before in the word of the truth, the gospel (Colossians 1:3-5). We give thanks to God always for all of you, constantly mentioning you in our prayers, remembering before our God and Father your work of faith and labor of love and steadfastness of hope in our Lord Jesus Christ (1 Thessalonians 1:2-3). I thank my God always when I remember you in my prayers, because I hear of your love and of the faith that you have toward the Lord Jesus and all the saints. (Philemon 1:4-5)
God's perspective in suffering and affliction: Paul thanked God for the ministry opportunities suffering provided. Blessed be the God and Father of our Lord Jesus Christ, the Father of mercies and God of all comfort, who comforts us in all our affliction, so that we may be able to comfort those who are in any affliction, with the comfort with which we ourselves are comforted by God (2 Corinthians 1:3-4). But thanks be to God, who in Christ always leads us in triumphal procession, and through us spreads the fragrance of the knowledge of him everywhere. For we are the aroma of Christ to God among those who are being saved and among those who are perishing, (2 Corinthians 2:15-16).
When I read this, I start to think of all the spiritual work God is doing among His people in our church. My heart fills with joy each time I stop to think of what He has done and is doing. I am also encouraged to directly tell dear saints of Jesus Christ, what I see Christ doing. This kind of thanksgiving is a delight year around and it is never trite. How do you see God doing these things in the people in your life?